This quartett is based on the last sketches Beethoven wrote shortly before his death around November 1826 for his planned stringquintett in C Major! I made use of his completed wonderful introduction and the beautiful main themes of all 4 movements.
1. Andante maestoso/Allegro MP3 Score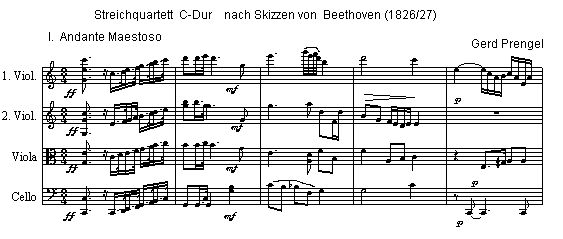 The introduction is almost completely by Beethoven. I just arranged it for a string quartet since it is just available in a piano arrangement by Diabelli (WoO62). I like this introduction very much. It reminds me of the wonderfully majestic and melodious introduction to Beethoven's overture op.115.
The Allegro starts with flowing eighth notes in a way similar to the quartet op.59,1 with the main theme calmly performed by the cello. From 2:17 I use another wonderful and jubilent sketched theme from Beethoven's quintett:

In the development the main theme is elaborated only in minor - firstly in a calm and melancholic way and then with counterpoints and also conflicting ways. The Coda begins with a solemn slow variation of the main theme and ends with a furious stretta.
2. Andante cantabile con variazioni MP3 Score

An Andante with 10 variations on Beethoven's 9/8 Andante theme in G Major which reminds us of the Mozart-like Andante theme in 6/8 from the first Symphony op. 21 or the Andante from op. 18,6. I feel it is very suited for variations, especially those in minor I love very much.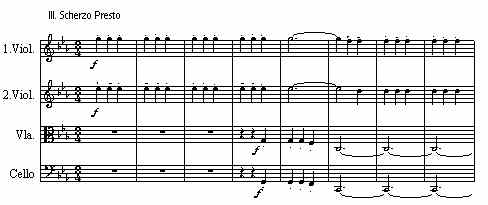 A furious Presto in c-minor based on Beethoven's 8 bar motif with equal 1/4 notes in the violins answered by the knocking fate motif in the bass. The Trio has a contrasting calm and melodic character.
4. Allegro vivacce MP3

I tried to elaborate Beethoven's theme (which reminds us of the Rondo from op.130) in several ways: with humorous parts, longer melodious cantabile parts and conflicting fugatos in the development. The Coda has two parts: a slow expressive variation of the main theme in c minor and a furious Presto.